Product Description
Nmrv Right Angle 90 Degree Reduction Worm Gear Reducer Gearbox
Input Configurations

Double or single input shaft (NRV)

PAM / IEC motor input shaft with circle or square flange (NMRV)

Output Configurations

 

Double or single output shaft

Output flange
Specification
Model

Motor Input Flange (circle)

Transmission Ratio

Power

(kw)

Ratio

(i)

Nominal Torque

(Nm)

PAM / IEC

Internal Dia.

Dis. Between Diagonal Screw Holes

External Dia.

Width of Key Slot

5

7.5

10

15

20

25

30

40

50

60

80

100

N

M

P

E

Diamter of Input Shaft

NMRV25

56B14

50

65

80

3

9

–

9

–

0.06

7.5-60

2.6-14

NMRV30

63B5

95

115

140

4

11

–

0.06-0.18

7.5-80

2.6-14

63B14

60

75

90

56B5

80

100

120

3

9

–

56B14

50

65

80

NMRV40

71B5

110

130

160

5

14

–

0.09-0.37

7.5-100

11-53

71B14

70

85

105

63B5

95

115

140

4

11

63B14

60

75

90

56B5

80

100

120

3

–

9

NMRV50

80B5

130

165

200

6

19

–

0.12-0.75

7.5-100

21-89

80B14

80

100

120

71B5

110

130

160

5

14

–

71B14

70

85

105

63B5

95

115

140

4

–

11

NMRV63

90B5

130

165

200

8

24

–

0.25-1.5

7.5-100

56-166

90B14

95

115

140

80B5

130

165

200

6

19

–

80B14

80

100

120

71B5

110

130

160

5

–

14

71B14

70

85

105

NMRV75

100/112B5

180

215

250

8

–

28

–

0.55-4

7.5-100

90-269

100/112B14

110

130

160

90B5

130

165

200

8

24

–

90B14

95

115

140

80B5

130

165

200

6

–

19

80B14

80

100

120

71B5

110

130

160

–

–

14

NMRV90

100/112B5

180

215

250

8

–

28

–

0.55-4

7.5-100

101-458

100/112B14

110

130

160

90B5

130

165

200

8

24

–

90B14

95

115

140

80B5

130

165

200

6

–

19

80B14

80

100

120

NMRV110

132B5

230

265

300

10

–

38

–

1.1-7.5

7.5-100

242-660

132B14

130

165

200

–

100/112B5

180

215

250

8

28

–

90B5

130

165

200

–

24

90B14

95

115

140

–

80B5

130

165

200

–

19

 NMRV130 

132B5

230

265

300

10

 – 

38

 – 

 2.2-7.5 

 7.5-100 

 333-1596 

132B14

130

165

200

–

100/112B5

180

215

250

8

–

28

90B5

130

165

200

–

–

24

90B14

95

115

140

NMRV150

160B5

250

300

350

12

–

42

–

2.2-15

7.5-100

570-1760

132B5

230

265

300

10

–

38

–

132B14

130

165

200

–

100/112B5

180

215

250

8

–

28
Company profile
Scenario
Packing
FAQ
Q1: I want to buy your products, how can I pay?
A: You can pay via T/T(30%+70%), L/C ,D/P etc. 
Q2: How can you guarantee the quality?
A: One year's warranty against B/L date. If you meet with quality problem, please send us pictures or video to check, we promise to send spare parts or new products to replace. Our guarantee not include inappropriate operation or wrong specification selection. 
Q3: How we select models and specifications?
A: You can email us the series code (for example: RC series helical gearbox) as well as requirement details, such as motor power,output speed or ratio, service factor or your application…as much data as possible. If you can supply some pictures or drawings,it is nice. 
Q4: If we don't find what we want on your website, what should we do?
A: We offer 3 options:
1, You can email us the pictures, drawings or descriptions details. We will try to design your products on the basis of our
standard models.
2, Our R&D department is professional for OEM/ODM products by drawing/samples, you can send us samples, we do customized design for your bulk purchasing.
3, We can develop new products if they have good market. We have already developed many items for special using successful, such as special gearbox for agitator, cement conveyor, shoes machines and so on. 
Q5: Can we buy 1 pc of each item for quality testing?
A: Yes, we are glad to accept trial order for quality testing.
Q6: How about your product delivery time?
A: Normally for 20'container, it takes 25-30 workdays for RV series worm gearbox, 35-40 workdays for helical gearmotors.
| | |
| --- | --- |
| Application: | Motor, Machinery, Agricultural Machinery |
| Hardness: | Hardened Tooth Surface |
| Installation: | B3,B6,B7,B8,V5,V6 |
| Layout: | Coaxial |
| Gear Shape: | Cylindrical Gear |
| Step: | Single-Step |
Customization:

Available

|

Customized Request
Replacing Parts vs. Replacing the Whole NMRV Gearbox
Whether to replace parts or the entire NMRV gearbox depends on the extent of the issue and the availability of replacement parts:
Replacing Parts: If a specific component is faulty or worn, you can often replace that part. This is a cost-effective solution and is feasible when the damage is isolated to a single component.
When to Replace Parts:
Minor wear on gears, bearings, or seals.
Specific components are damaged, but the rest of the gearbox is in good condition.
Replacing the Whole Gearbox: If multiple components are severely damaged, the gearbox housing is cracked, or the gearbox repeatedly experiences issues, replacing the entire unit might be a better option.
When to Replace the Whole Gearbox:
Severe damage to multiple components.
Cracks or damage to the gearbox housing.
Frequent breakdowns and repairs.
Professional Assessment: In some cases, it's best to consult a professional technician to assess the situation and provide recommendations. They can guide you on whether to replace parts or the entire unit based on the specific circumstances.
Ultimately, the decision between replacing parts and replacing the whole NMRV gearbox depends on factors such as the extent of damage, cost considerations, and the expertise of professionals.
Design Principles of an NMRV Gearbox
The design of an NMRV (worm gear) gearbox is based on key principles that enable its efficient and reliable operation:
Worm Gear Mechanism: The core of an NMRV gearbox is the worm screw and worm wheel. The worm screw, typically cylindrical in shape, meshes with the teeth of the worm wheel. This configuration provides high gear reduction ratios.
Helical Gearing: The worm screw is usually helical, allowing for smoother engagement with the worm wheel. Helical gearing reduces the sliding friction and noise associated with traditional straight-cut worm gears.
Compact Design: NMRV gearboxes are designed to be compact, often with a right-angle configuration. This allows for efficient use of space in various applications.
Alloy Construction: Many NMRV gearboxes are constructed from high-quality alloys, providing durability and corrosion resistance. The choice of materials ensures a gearbox capable of withstanding varying loads and environmental conditions.
Bearing Support: Bearings support the rotating elements within the gearbox, reducing friction and ensuring smooth operation. Bearings are strategically placed to handle radial and axial loads.
Sealing and Lubrication: NMRV gearboxes are equipped with effective sealing mechanisms to prevent the entry of contaminants and to retain lubricating oil. Proper lubrication is essential for reducing wear and enhancing gearbox efficiency.
Efficient Power Transmission: The worm gear mechanism in NMRV gearboxes provides high gear reduction ratios, allowing for efficient power transmission while minimizing energy losses.
Quiet Operation: The helical design of the worm screw and worm wheel contributes to quieter operation compared to traditional straight-cut worm gears.
Wide Range of Ratios: NMRV gearboxes are available in various gear ratios, allowing users to select the appropriate configuration for their specific application needs.
The combination of these design principles results in an NMRV gearbox that offers efficient, reliable, and quiet power transmission for a wide range of industrial applications.
Installing an NMRV Gearbox
Installing an NMRV gearbox requires careful attention to ensure proper alignment and secure attachment. Here's a general guide to the installation process:
Prepare the Workspace: Ensure you have a clean and organized workspace with the necessary tools and equipment.
Positioning: Place the NMRV gearbox in the desired position on your machinery, making sure it aligns with the input and output components.
Alignment: Ensure that the input shaft of the gearbox is aligned with the driving shaft from the power source. Misalignment can lead to premature wear and reduced efficiency.
Mounting: Securely mount the NMRV gearbox to the machinery frame using appropriate fasteners. Follow the manufacturer's recommendations for torque specifications.
Input Coupling: Connect the input shaft of the gearbox to the driving shaft using a suitable coupling. This coupling should be properly aligned to avoid unnecessary stress on the gearbox components.
Output Coupling: Similarly, connect the output shaft of the gearbox to the driven component using an appropriate coupling.
Lubrication: Before operation, make sure to fill the gearbox with the recommended lubricant to ensure proper gear meshing and reduce friction.
Testing: Run the machinery briefly to check for any unusual noises, vibrations, or leaks. Make any necessary adjustments.
It's crucial to follow the manufacturer's installation guidelines and specifications to ensure a smooth and trouble-free installation process. Proper installation contributes to the longevity and reliable performance of your NMRV gearbox.



editor by CX 2023-09-11
Solution Description
aluminum correct angle quality WORM particular Equipment Speed double reduction REDUCER nmrv gearbox companies



/ Piece




|

100 Pieces



(Min. Order)

###
| | |
| --- | --- |
| Application: | Motor, Electric Cars, Motorcycle, Machinery, Marine, Agricultural Machinery, Car |
| Function: | Distribution Power, Clutch, Change Drive Torque, Change Drive Direction, Speed Changing, Speed Reduction, Speed Increase |
| Layout: | Coaxial |
| Hardness: | Hardened Tooth Surface |
| Installation: | Horizontal Type |
| Step: | Three-Step |
###
Samples:

US$ 9999/Piece

1 Piece(Min.Order)



/ Piece




|

100 Pieces



(Min. Order)

###
| | |
| --- | --- |
| Application: | Motor, Electric Cars, Motorcycle, Machinery, Marine, Agricultural Machinery, Car |
| Function: | Distribution Power, Clutch, Change Drive Torque, Change Drive Direction, Speed Changing, Speed Reduction, Speed Increase |
| Layout: | Coaxial |
| Hardness: | Hardened Tooth Surface |
| Installation: | Horizontal Type |
| Step: | Three-Step |
###
Samples:

US$ 9999/Piece

1 Piece(Min.Order)
Worm reducer gearbox – What You Need to Know
When shopping for a Worm reducer gearbox, it is important to consider the functions and features of the unit. It is also important to take into account its cost. We will take a look at the different types of worm reducer gearboxes and the applications that they can be used for. This will help you choose the right unit for your application.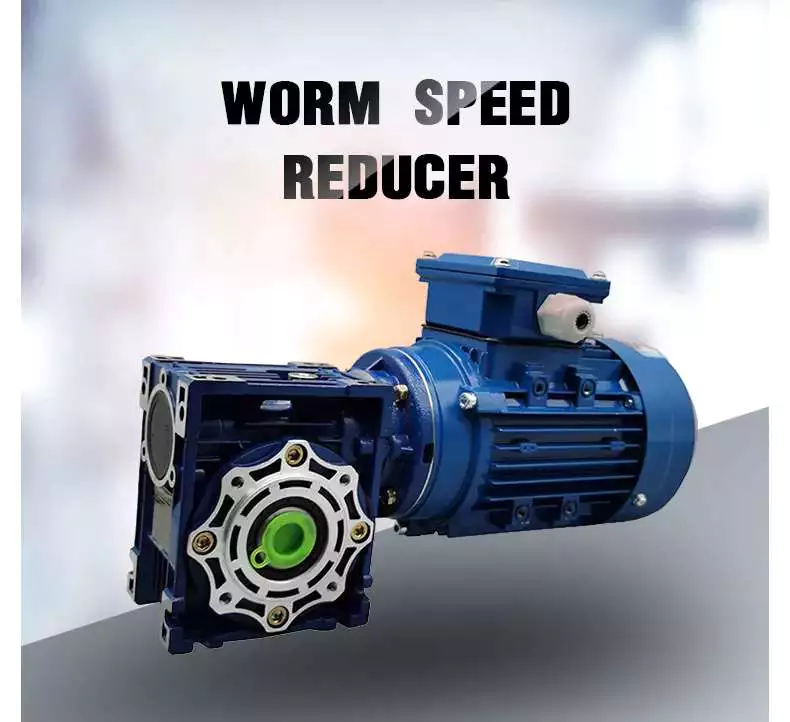 Features
Worm gears are popular in instruments that require fast stopping, such as elevators and lifts. Their soft materials allow them to absorb shock, which reduces the likelihood of failure. They are also beneficial in heavy-duty machines, such as rock crushers. Some manufacturers offer special worms with zero backlash and high-accuracy reduction.The worm reducer gearbox has a variety of features, including an axial pitch and a circular pitch. The axial pitch of the worm must match the circular pitch of the larger gear. Its threads are left or right-handed, and its lead angle is the distance a point on the thread travels during a revolution of the worm.The worm gear reducer gearbox is widely available, and gear manufacturers typically maintain a large inventory of them. Because worm gears are standardized, their mounting dimensions are generally uniform across manufacturers. This means that choosing one will not require you to change the height, length, or diameter of the output shaft. Worm gear reducer gearboxes also have dimensional consistency.Worm gears are very efficient. They have a high load capacity and a low friction coefficient. The worm gears also have a precise tooth profile, which reduces speed fluctuations and allows for quiet operation.
Functions
Worm gears have different functions. They can be used in a variety of applications. For instance, they can be used in elevators to reduce the load on the elevator. These gears also have low noise levels because they are made of dissimilar metals. Moreover, these gears can be used in elevators because they are suitable for this type of application. However, they need a single stage reducer gearbox to function properly.Another important feature of a worm reducer gearbox is that it can operate in reverse. This means that the input shaft turns backwards, while the output shaft rotates forwards. Examples of such applications include hand-cranked centrifuges, blacksmithing forge blowers, and the wind governor of musical boxes. Worm gears are available in different shapes and sizes, from gearsets to housed units. They can also be configured as multi-speed designs. Some manufacturers also offer special precision and zero-backlash worms.A worm reducer gearbox's tooth form is important in determining the capacity of the device. Typically, a single-lead worm gear has the same lead on the left and right tooth surfaces, although a dual-lead worm gear has different leads on each side. This feature helps to eliminate play in the worm gear. However, it is important to note that a worm reducer gearbox can be manufactured with different tooth shapes for different applications.The worm gear is an alternative to conventional gears. It operates in a similar fashion to ordinary gear drives. The main advantage of a worm gear is that it is able to reduce the rotational speed and torque of a rotating shaft. It also has the added benefit of being able to transfer motion at an angle of 90 degrees. The only drawback of a worm gear is that it cannot reverse motion.
Applications
This market report analyzes the Worm reducer gearbox market from a global perspective. It includes a comprehensive analysis of the current market trends and future growth prospects. It also provides information about the competitive landscape and the main players in the industry. The report also highlights the key factors affecting the growth of the Worm reducer gearbox market.
The major regional markets for the Worm reducer gearbox include North America, Asia-Pacific, the Middle East and Africa, Latin America, and Europe. The market in these regions is likely to remain stable with a limited growth over the next few years. A worm gear is a small mechanical device that is connected to a larger gear. When connected together, it produces a low output speed but high torque.The gearing on a worm drive can be right-hand or left-hand, and can turn clockwise or counter-clockwise. Depending on the worm's helix angles, back-driving and friction can be reduced. Worm gears are available in housed units or in gearsets. Some manufacturers offer integrated servomotors and multi-speed designs. High-accuracy and zero-backlash worms are available.Worm gears are particularly popular in instruments that require fast stops. They are also commonly found in elevators and lifts. Their soft nature and low-shock characteristics make them highly suitable for these types of machines.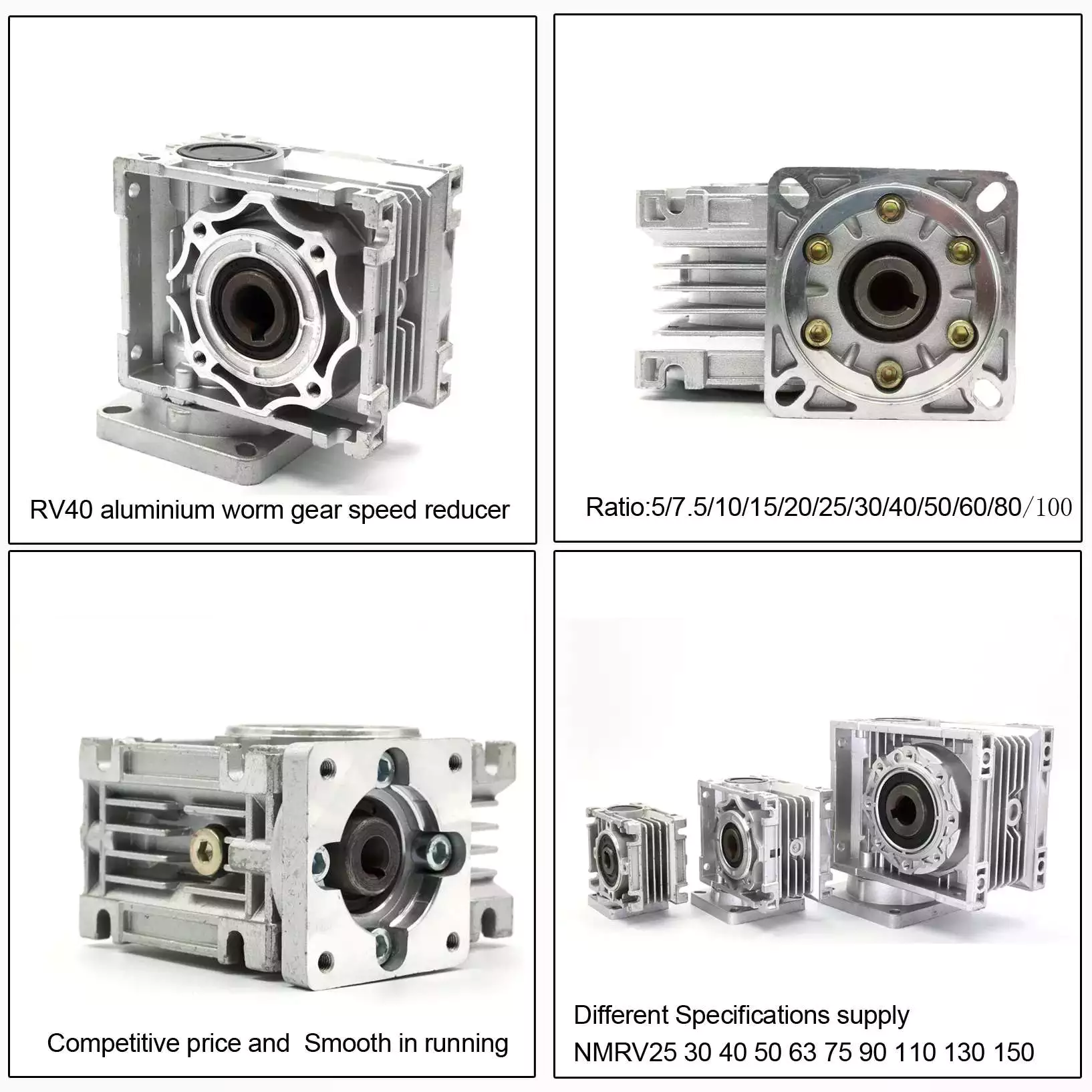 Cost
Cost is an important consideration when selecting a worm reducer gearbox. The initial cost of a worm gear reducer gearbox is considerably lower than other types of gear reducer gearboxes. Worm gear reducer gearboxes are also more energy-efficient, and have higher overload capacities than competitive systems. The following are factors that affect the cost of a worm gear reducer gearbox.Stainless steel worm gear reducer gearboxes from Agknx offer great value for the money. They offer flange input and hollow output bore sizes, as well as center distances ranging from 1.75″ to 3.25″. In addition to the standard version, a stainless steel bushing kit is available, which allows users to use a wider range of head shaft sizes. Stainless steel worm gear reducer gearboxes are available in stock from all six of Agknx's regional warehouses. They also come with free prepaid freight.Worm gear reducer gearboxes are often used in power transmission systems, elevators, conveyor belts, and medical equipment. In these applications, they are used to control the speed of a load and prevent it from freefall. While worm gear reducer gearboxes are not as efficient as helical gearboxes, they are still very useful for applications that require high torque or high output rates.To select the right type of worm for your application, you should consider the number of teeth it contains. It's best to select worms with a combined total of 40 teeth or more.
aspect
Worm reducer gearboxes vary in size. They have one, two or more threads. Each thread has a lead angle. A high ratio has more teeth than a low gear, and a low ratio has fewer teeth. These differences are the result of gearing. The size of the worm gear reducer gearbox should be selected according to the specific application.The worm gear reducer gearbox saves space and provides more torque. Agknx Gearbox has created a variety of models to overcome common deceleration challenges, from standard to hygienic markets. The superior transmission Agknx range is designed to solve common deceleration challenges and expand to meet the needs of the sanitary industry.The diameter of the worm reducer gearbox is an important consideration. Its diameter should be equal to or slightly larger than the diameter of the grinding wheel or tool. This will affect the pressure angle. The pressure angle on a worm reducer gearbox depends on several factors, including its diameter and lead angle. The diameter of the grinding wheel or tool also has an effect on the profile of the worm.Worm gear reducer gearboxes are common. Many gear manufacturers have large stocks of these gear reducer gearboxes. Since gears are standardized, the mounting dimensions of worm gears are also common among manufacturers. This makes it easy to select a worm gear reducer gearbox for your application. In addition, the worm gear reducer gearbox is easy to install and maintain.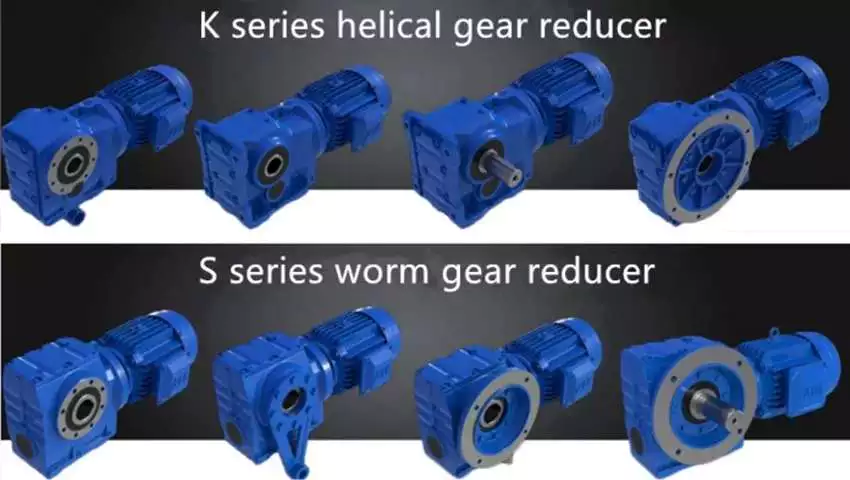 Worm gear reducer gearbox oil
Worm gear reducer gearboxes usually use gear oil. Several types of gear oils are available, including synthetic, polyalkylene glycol, and mineral oils. The oil used in the worm gear reducer gearbox must have the right viscosity for the gear. Some oils are more corrosive than others and should be avoided if the environment is toxic.The oil of the worm gear reducer gearbox must be protected against corrosion, wear and friction. It is best to choose a lubricant with low friction rate, high oxidation resistance and good anti-wear protection. While mineral oils are the most common type of lubricant, synthetic base oils can improve gear efficiency and reduce operating temperatures. This is because the Arrhenius rate rule states that the chemical reaction in the oil doubles for every 10 degrees Celsius increase in temperature.Worm gear reducer gearboxes are available in a variety of sizes and configurations. They are suitable for all kinds of machines and equipment. The sliding action between the worm gear and the output shaft produces high torque and high efficiency. If the transmission speed is low, the worm gear and output shaft can be combined for maximum efficiency.Worm gear reducer gearboxes require less frequent oil changes than other types of gear reducer gearboxes. However, regular oil should be changed every six months or 2,500 hours, whichever comes first. Also, it is a good idea to regularly monitor the oil level to prevent lubrication-related gearbox failures. It's also wise to use synthetic oil, as it will last longer between oil changes.



editor by CX 2023-04-03