Product Description
Reducer Spiral Bevel Helical Speed Reduction Agriculture Agricultural Cycloidal Servo High Precision Planetary Winch Track Wheel Slewing Drive Nmrv Worm Gearbox
Our products
Worm gearbox: RV series, WP series, SWL series screw jack, VF series 
Helical gearbox: R/F/K/S series, HB series, BKM series, RC series, SMR shaft mounted gearbox, TA shaft mounted gearbox
Cycloidal gearboxes: BL/XL flange vertical installed double shaft type, BW/XW baseboard horizontal installed double shaft type, BLD/XLD flange vertical installed motor direct-connection type, BWD/XWD baseboard horizontal installed motor direct-connection type
Planetary gearbox: High precision planetary gearboxes, Planetary gearbox for feed mixer, Planetary gearbox for construction mixer, Travel drives, Winch drives, Slew drives, Inline gear reducer
Agricultural gearbox: Planetary gearbox for feed mixer, Flail Mower Gearbox, Rotary Tiller Gearbox, Lawn Mower Gearbox, rotary cutter gearbox, post hole gearbox, rotary mower gearbox, irrigation gearbox, fertilizer spreader gearbox, hydraulic drive gearbox, rotary rakes gearbox, hay tedders gearbox, sewage agitators gearbox, cutter bars gearbox, snowblower gearbox…
 
Our Advantages
–Box processing accuracy assurance
    Large horizontal box machining center
    High-end fully automatic multi-axis CNC boring and milling machine
    Fully CNC high-precision processing ensures the accuracy of hole location
–Fourth level precision of precision gear grinding
    The tooth surface is carburized and hardened, which is durable
    Fine rolling and grinding process, high efficiency, stable and low noise
–Automatic numerical control workshop
    Standardized CNC production workshop
    Pass the ISO9001 quality system certification
    Efficient operation to ensure production duration
–Diversified configuration and matching as required
    It can be equipped with common three-phase/single-phase, braking, frequency conversion, explosion-proof, servo, and other motors.
    Different motor voltage/frequency, protection grade, and energy efficiency grade can be configured.
    Customizable input end cover matching non-standard power input device
–Automatic painting assembly line
    Fully automatic painting assembly line
    Ensure both internal and external products
    Exquisite appearance and brand expression
–Rich customization design capability
    Design technology team with more than 20 years of experience
    Can undertake customization of various non-standard reducers
Company Profile
The company specializes in producing worm gearboxes (reducers), agricultural gearboxes, planetary gearboxes, helical gearboxes, swl series screw gearboxes, R, K, F, S series helical gear reducers, B/X series cycloidal pin gear reducers, etc. The products are exported to dozens of countries and regions in Europe, America, Japan, India, Brazil, etc. The products are mainly used in plastics, rubber, metallurgy and mining, petrochemical industry, hoisting and transportation, light industrial food, and other fields.
The company has exact and sensitive equipment, challenging tooth surface processing, and manufacturing equipment: German and Swiss gear grinders, gear testers, hobbing machines, large boring and milling machines, Japanese machining centers, etc.
More than 20 projects, such as the high torque reducer developed by the company, have won the national patent invention certificate and also won the national "high-tech enterprise certificate" in 2571.
Since its establishment in 2003, the company has adhered to the concept of "sustainable operation," the business philosophy of "people-oriented, customer first," and the core values of "unity, friendship, dedication, innovation, and efficiency." The company keeps up with the cutting-edge technology in the market and strives to create the most satisfactory products for customers!
Product processing flow
Box processing process
 
Mechanical modeling of metal mold → casting on production line → artificial aging treatment → shot peening treatment → machining center processing → CMM detection
Gear processing process
Forging → normalizing → rough turning → fine turning → gear hobbing → chamfering of tooth end → carburizing and quenching (HRC58-62) → shot blasting → grinding of the end face and inner hole → gear grinding → accuracy testing (tooth shape, tooth orientation, tooth pitch, etc., level 6) → wire cutting keyway → magnetic particle flaw detection → ultrasonic cleaning and rust prevention.
Process flow of gear shaft processing
Forging → normalizing → rough turning (including center hole drilling) → finish turning → gear hobbing → keyway milling → carburizing and quenching (HRC58-62) → shot blasting → grinding center hole → excircle grinding → gear grinding → testing (tooth shape, tooth pitch, etc., level 6) → magnetic particle inspection → ultrasonic cleaning and rust prevention.
Certifications
Packaging & Shipping
How to select reducer
To determine the model of a reducer, the following parameters need to be determined:
1. Determine the running speed of the machine, and calculate the reduction ratio of the reducer according to this speed (reduction ratio=input shaft speed/output shaft speed=motor speed/mechanical required speed);
2. Calculate the load torque, select the output of the reducer according to this torque (refer to the "Output Torque Table" provided by the reducer manufacturer), and determine the reducer model;
3. Determine the additional functions of the reducer, such as power off braking, power on braking, frequency conversion, shrink frame, housing material, etc. Some additional functions can only be provided by specific factories.
| | |
| --- | --- |
| Application: | Motor, Electric Cars, Motorcycle, Machinery, Marine, Toy, Agricultural Machinery, Car |
| Layout: | Coaxial |
| Hardness: | Soft Tooth Surface |
| Step: | Stepless |
| Transport Package: | Wooden Box |
| Specification: | Customize |
Samples:

US$ 9999/Piece

1 Piece(Min.Order)

|
Request Sample

Calculating Torque Requirements for an NMRV Gearbox

Calculating torque requirements for an NMRV gearbox involves several steps: Identify Input Torque, Calculate Output Torque, Consider Efficiency, and Add Safety Margin.

Identify Input Torque: Determine the input torque required by the application, taking into account factors such as load, speed, and efficiency.
Calculate Output Torque: Use the gear ratio of the NMRV gearbox to calculate the output torque needed to achieve the desired output speed.
Consider Efficiency: Take into account the efficiency of the NMRV gearbox. The actual output torque will be influenced by the gearbox's mechanical efficiency.
Add Safety Margin: To ensure reliable performance and account for variations in operating conditions, it's recommended to add a safety margin to the calculated torque requirements.

Formula to calculate output torque: Output Torque = Input Torque × Gear Ratio × Gearbox Efficiency

Keep in mind that torque requirements can vary based on the specific application and factors such as load type, duty cycle, and environmental conditions. Consulting with gearbox manufacturers or engineering experts can help ensure accurate torque calculations for your NMRV gearbox application.
Installing an NMRV Gearbox
Installing an NMRV gearbox requires careful attention to ensure proper alignment and secure attachment. Here's a general guide to the installation process:
Prepare the Workspace: Ensure you have a clean and organized workspace with the necessary tools and equipment.
Positioning: Place the NMRV gearbox in the desired position on your machinery, making sure it aligns with the input and output components.
Alignment: Ensure that the input shaft of the gearbox is aligned with the driving shaft from the power source. Misalignment can lead to premature wear and reduced efficiency.
Mounting: Securely mount the NMRV gearbox to the machinery frame using appropriate fasteners. Follow the manufacturer's recommendations for torque specifications.
Input Coupling: Connect the input shaft of the gearbox to the driving shaft using a suitable coupling. This coupling should be properly aligned to avoid unnecessary stress on the gearbox components.
Output Coupling: Similarly, connect the output shaft of the gearbox to the driven component using an appropriate coupling.
Lubrication: Before operation, make sure to fill the gearbox with the recommended lubricant to ensure proper gear meshing and reduce friction.
Testing: Run the machinery briefly to check for any unusual noises, vibrations, or leaks. Make any necessary adjustments.
It's crucial to follow the manufacturer's installation guidelines and specifications to ensure a smooth and trouble-free installation process. Proper installation contributes to the longevity and reliable performance of your NMRV gearbox.



editor by CX 2023-08-17
Product Description
TaiBang Motor Industry Group Co., Ltd.
The main products is induction motor, reversible motor, DC brush gear motor, DC brushless gear motor, CH/CV big gear motors, Planetary gear motor ,Worm gear motor etc, which used widely in various fields of manufacturing pipelining, transportation, food, medicine, printing, fabric, packing, office, apparatus, entertainment etc, and is the preferred and matched product for automatic machine. 
Taibang planetary gear motor is high energy efficiency,low noise,long service life,which is widely used in various industry.
Model Instruction
 
GE
090
571
P2
Reducer Series Code
External Diameter
Reduction Ratio
Reducer Backlash
GB:High Precision Square Flange Output

GBR:High Precision Right Angle Square Flange Output

GE:High Precision Round Flange Output

GER:High Precision Right Round Flange Output

050:ø50mm
070:ø70mm
090:ø90mm
120:ø120mm
155:ø155mm
205:ø205mm
235:ø235mm
042:42x42mm
060:60x60mm
090:90x90mm
115:115x115mm
142:142x142mm
180:180x180mm
220:220x220mm
571 means 1:10
P0:High Precision Backlash

P1:Precision Backlash

P2:Standard Backlash
Main Technical Performance
 
Item
Number of stage
Reduction Ratio
GB042
GB060
GB060A
GB090
GB090A
GB115
GB142
GB180
GB220
Rotary Inertia
1
3
0.03
0.16
 
0.61
 
3.25
9.21
28.98
69.61
4
0.03
0.14
 
0.48
 
2.74
7.54
23.67
54.37
5
0.03
0.13
 
0.47
 
2.71
7.42
23.29
53.27
6
0.03
0.13
 
0.45
 
2.65
7.25
22.75
51.72
7
0.03
0.13
 
0.45
 
2.62
7.14
22.48
50.97
8
0.03
0.13
 
0.44
 
2.58
7.07
22.59
50.84
9
0.03
0.13
 
0.44
 
2.57
7.04
22.53
50.63
10
0.03
0.13
 
0.44
 
2.57
7.03
22.51
50.56
2
15
0.03
0.03
0.13
0.13
0.47
0.47
2.71
7.42
23.29
20
0.03
0.03
0.13
0.13
0.47
0.47
2.71
7.42
23.29
25
0.03
0.03
0.13
0.13
0.47
0.47
2.71
7.42
23.29
30
0.03
0.03
0.13
0.13
0.47
0.47
2.71
7.42
23.29
35
0.03
0.03
0.13
0.13
0.47
0.47
2.71
7.42
23.29
40
0.03
0.03
0.13
0.13
0.47
0.47
2.71
7.42
23.29
45
0.03
0.03
0.13
0.13
0.47
0.47
2.71
7.42
23.29
50
0.03
0.03
0.13
0.13
0.44
0.44
2.57
7.03
22.51
60
0.03
0.03
0.13
0.13
0.44
0.44
2.57
7.03
22.51
70
0.03
0.03
0.13
0.13
0.44
0.44
2.57
7.03
22.51
80
0.03
0.03
0.13
0.13
0.44
0.44
2.57
7.03
22.51
90
0.03
0.03
0.13
0.13
0.44
0.44
2.57
7.03
22.51
100
0.03
0.03
0.13
0.13
0.44
0.44
2.57
7.03
22.51
Item
Number of stage
GB042
GB060
GB060A
GB90
GB090A
GB115
GB142
GB180
GB220
Backlash(arcmin)
High Precision P0
1
 
 
 
≤1
≤1
≤1
≤1
≤1
≤1
2
 
 
 
 
 
≤3
≤3
≤3
≤3
Precision P1
1
≤3
≤3
≤3
≤3
≤3
≤3
≤3
≤3
≤3
2
≤5
≤5
≤5
≤5
≤5
≤5
≤5
≤5
≤5
Standard P2
1
≤5
≤5
≤5
≤5
≤5
≤5
≤5
≤5
≤5
2
≤7
≤7
≤7
≤7
≤7
≤7
≤7
≤7
≤7
Torsional Rigidity(N.M/arcmin)
1
3
7
7
14
14
25
50
145
225
2
3
7
7
14
14
25
50
145
225
Noise(dB)
1,2
≤56
≤58
≤58
≤60
≤60
≤63
≤65
≤67
≤70
Rated input speed(rpm)
1,2
5000
5000
5000
4000
4000
4000
3000
3000
2000
Max input speed(rpm)
1,2
10000
10000
10000
8000
8000
8000
6000
6000
4000
 Noise test standard:Distance 1m,no load.Measured with an input speed 3000rpm 
| | |
| --- | --- |
| Application: | Machinery, Agricultural Machinery, Lithium Battery Production Equipment |
| Function: | Distribution Power, Change Drive Torque, Change Drive Direction, Speed Reduction |
| Layout: | Cycloidal |
| Hardness: | Hardened Tooth Surface |
| Installation: | Vertical Type |
| Step: | Double-Step |
Samples:

US$ 50/Piece

1 Piece(Min.Order)

|
Request Sample
| | |
| --- | --- |
| Customization: | |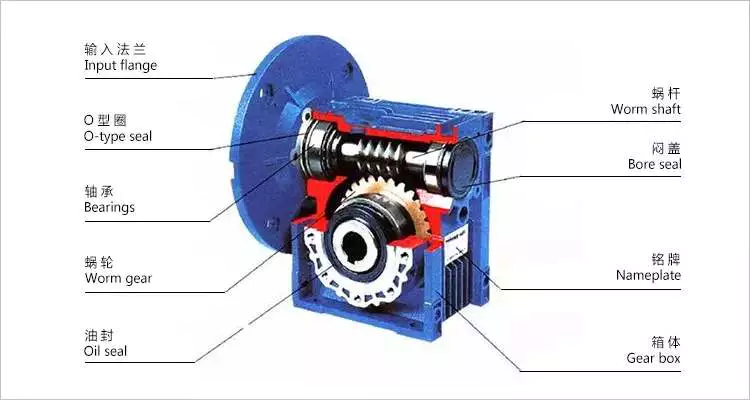 Worm reducer gearbox
Worm reducer gearboxes are commonly used to reduce the Agknx produced by a rotating shaft. They can achieve reduction ratios of five to sixty. In contrast, a single-stage hypoid gear can achieve up to a 120:1 reduction ratio. For further reduction, another type of gearing is used. So, a single stage worm reducer gearbox cannot achieve higher ratios than these.
Mechanics
A worm reducer gearbox is an auxiliary mechanical device that uses worms to reduce the size of a rotating shaft. These worms have a range of tooth forms. One form is a line weave twist surface. Another is a trapezoid based on a central cross section. The trapezoid can be perpendicular to the tooth cross section, or it can be normal to the root cross section. Other forms include involute helicoids and convolute worms, which use a straight line intersecting the involute generating line.
Worm gears are lubricated with a special lubricant. Because worm gears are complex, it's important to use the correct lubricant. Worm gear manufacturers provide approved lubricants for their gears. Using unapproved gear oil can damage your reducer gearbox's efficiency. The right lubricant depends on several factors, including load, speed, duty cycle, and expected operating temperatures.
The efficiency of a worm gear reducer gearbox depends on several factors, including losses at gear mesh, losses in the bearings, and windage in the oil seal lip. In addition, the worm gear reducer gearbox's efficiency varies with ambient temperature and operating temperature. The worm gear reducer gearbox's efficiency can also vary with the ratio of the load. Moreover, worm gear reducer gearboxes are subject to break-in.
Worm gear reducer gearboxes are used in many different applications. They are typically used in small electric motors, but they're also used in conveyor systems, presses, elevators, and mining applications. Worm gears are also commonly found in stringed musical instruments.
Worm gears have excellent reduction ratios and high Agknx multiplication, and they're often used as speed reducer gearboxes in low to medium-speed applications. However, the efficiency of worm gear reducer gearboxes decreases with increasing ratios.
Sizes
Worm reducer gearboxes come in different sizes and tooth shapes. While the tooth shape of one worm is similar to the other, different worms are designed to carry a different amount of load. For example, a circular arc worm may have a different tooth shape than one with a secondary curve. Worm gears can also be adjusted for backlash. The backlash is the difference between the advancing and receding arc.
There are two sizes of worm reducer gearboxes available from Agknx Transmission. The SW-1 and SW-5 models offer ratios of 3.5:1 to 60:1 and 5:1 to 100:1 respectively. The size of the worm reducer gearbox is determined by the required gear ratio.
Worm gears have different thread counts. One is based on the central cross-section of the worm, and the other is on the right. Worm gears can have either a single or double thread. Single-threaded gears will reduce speed by 50 percent, while double-threaded gears will reduce speed by 25 percent.
Worm gear reducer gearboxes are lightweight and highly reliable. They can accommodate a variety of NEMA input flanges and hollow output bore sizes. Worm reducer gearboxes can be found at 6 regional warehouses, with prepaid freight. To make a purchasing decision, you should consider the horsepower and Agknx requirements of your specific application.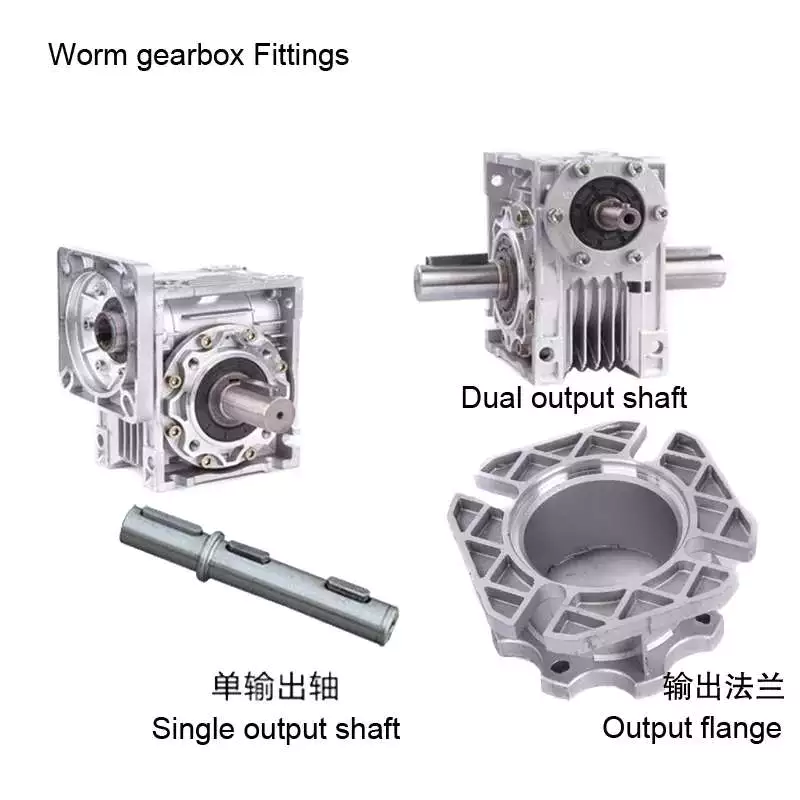 Applications
The Worm reducer gearbox market is a global business that is dominated by the North American and European regions. The report provides in-depth information on the market trends, key challenges, and opportunities. It also examines the current state of the industry and projects future market growth. The report is organized into segments based on product type, major geographical regions, and application. It also presents statistics and key data about the market.
Worm gear reducer gearboxes have many applications. They can be used to increase the speed of convey belts. They also help reduce noise. Worm gears have many teeth that touch the gear mesh, which makes them quieter. Moreover, the worm gears require only a single stage reducer gearbox, reducing the number of moving parts in the system.
The worm gear has long life and is suitable for different industries. It is a perfect choice for elevators and other applications that need fast stopping and braking. Its compact size and ability to hold a load make it suitable for these applications. It also prevents the load from free-falling as a result of a sudden braking. Worm gears can also be used in heavy-duty machinery such as rock crushers.
Worm gears are similar to ordinary gears except that they transfer motion at a 90-degree angle. As a result, the worm gears are extremely quiet, making them a suitable option for noise sensitive applications. They are also excellent for low-voltage applications, where the noise is critical.
Worm gears are ideal for applications with space restrictions, because they require fewer gear sets. The worm gears also allow for a smaller gearbox size. Consequently, they are the perfect choice for machines that are space-constrained, such as conveyors and packaging equipment.
Cost
The lifespan of a worm gear reducer gearbox is comparable to other gear reducer gearboxes. Worm gears have a long history of innovation and use in various industries, from shipbuilding to automobile manufacturing. Today, these gear reducer gearboxes are still popular with engineers. However, there are some things to keep in mind before buying one.
In the first place, a worm reducer gearbox needs to be affordable. Generally, a worm reducer gearbox costs about $120. The price varies with the brand name and features. Some products are more expensive than others, so be sure to shop around for the best price. In addition, it is important to consider the quality and design of the worm reducer gearbox before making a purchase.
Worm gear manufacturers have made significant advancements in materials, design and manufacturing. These advancements, along with the use of advanced lubricants, have resulted in significant increases in efficiency. For example, double enveloping worm gear reducer gearboxes have improved efficiency by three to eight percentage points. This improvement was achieved through rigorous testing of manufacturing processes and materials. With these improvements, worm gear reducer gearboxes have become more desirable in today's market.
Worm reducer gearboxes are extremely versatile and reliable, and are available in a variety of sizes. Domestic manufacturers usually stock a large selection of reducer gearboxes, and are often able to ship them the same day you place your order. Most major domestic worm gear reducer gearbox manufacturers also share some critical mounting dimensions, such as the output shaft diameter, the mounting hole location, and the overall reducer gearbox housing height. Most manufacturers also offer standardized gear ratios. Some manufacturers have also improved gear design and added synthetic lubricants for better performance.
In addition, different tooth shapes of worms can increase their load carrying capacity. They can be used on secondary curves and circular arc cross sections. Moreover, the pitch point defines the boundary of the cross section. The mesh on the receding arc is smoother than that of the advancing arc. However, in the case of negative shifting, most of the mesh is on the receding arc.


Self-locking function
A worm reducer gearbox has a self-locking function. When a worm is fitted with all of its addendum teeth, the total number of teeth in the system should be greater than 40. This self-locking function is achieved through the worm's rack and pinion mechanism. The worm's self-locking feature can prevent the load from being dropped and is useful for many applications.
The self-locking function of a worm reducer gearbox is possible for two main reasons. First of all, a worm reducer gearbox uses two or more gears. One gear is placed at the input, and the other gear runs the output shaft. This mechanism produces a torque, which is transmitted to a spur gear.
Worm reducer gearboxes can be used in a variety of industrial applications. Because of their self-locking function, they are useful for preventing back-driving. They are also helpful for lifting and holding loads. Their self-locking mechanism allows for a large gear reduction ratio without increasing the size of a gear box.
Self-locking gears can be used to prevent back-driving and inertial driving. This is useful for many industries and can prevent backdriving. However, one major disadvantage of self-locking gears is their sensitivity to operating conditions. Lubrication, vibration, and misalignment can affect their reliability.
Embodiments of the invention provide a self-locking mechanism that prevents back-driving but allows forward-driving. The self-locking mechanism may comprise first and second ratchet cams disposed about a gear member. A releasable coupling member may be interposed between the gear member and the ratchet cam. This facilitates selective coupling and decoupling.
The worm reducer gearbox has several advantages. Its compact design is ideal for many mechanical transmission systems. It also provides greater load capacity than a cross-axis helical gear mechanism.



editor by CX 2023-05-30